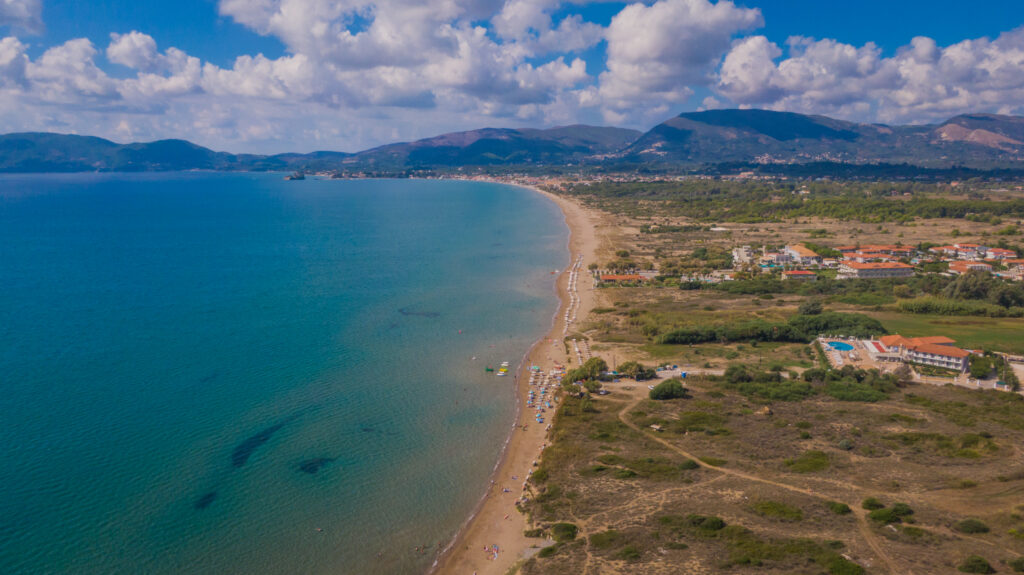 Looking for the best beaches in Zakynthos? This big island boasts scenic beauty and its unique position in the Ionian Sea leaves it with some of the most beautiful beaches in the world.
From sandy white beaches to rocky coves and hidden bays, there are many different types of beaches on Zakynthos. If you're planning on visiting anytime soon, or maybe you just want to see some of the most spectacular views on earth, then we have everything you need to know about Zakynthos beaches.
This Ionian jewel will beguile you no matter what. Here is our list of the top 10 best beaches in Zakynthos. Let's get started:
Don't forget*: If you are looking for the best place to stay, we already have the perfect spot for you. Our family-made hotel with 31 years of experience right next to Kalamaki Beach, Us! Dennys Inn Hotel!
Best Beaches in Zakynthos/Zante
1. Navagio Beach (Shipwreck Beach)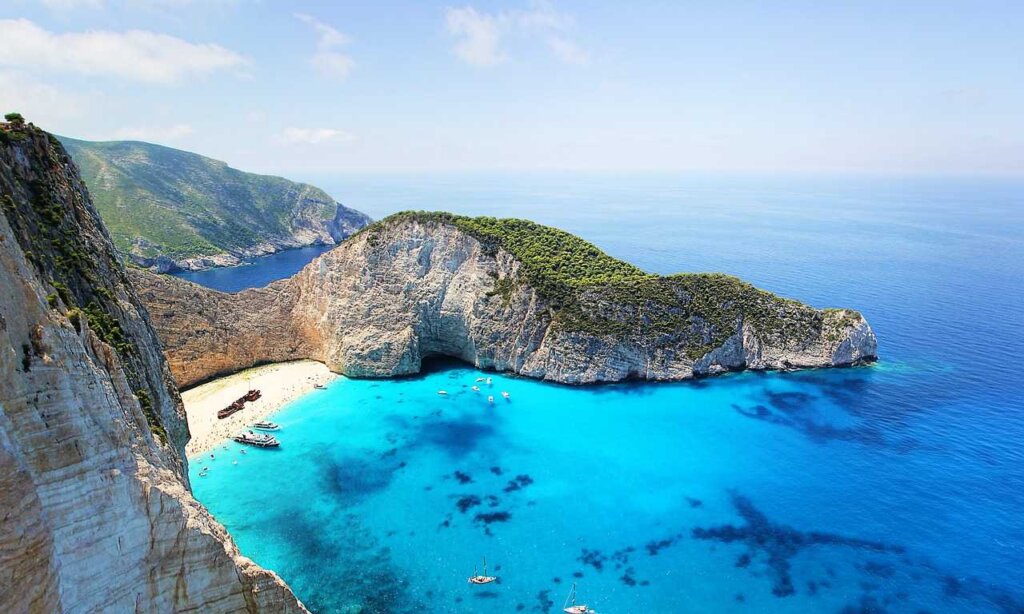 Probably the most photographed beach in the world, and it's easy to see why. Zakynthos Star Beach, Navagio.
Navagio beach (to give it its Greek name) merits all the praise that has been heaped upon it. It is wedged inside a narrow bay, flanked by high white cliffs with a lush green coating of flora, and has a lone shipwreck right in the heart of the sandy beach. After all, this is one of the locations that appears the most frequently on Instagram, and it has a really interesting past (the ship was illegally transporting cigarettes when it ran aground and the captain now wants compensation). Visiting Shipwreck Beach, which can only be reached by boat, is a must-do activity while visiting Zante.
It must be in our top 10 best beaches in Zakynthos!
2. Porto Limnionas
Porto Limnionas is a one-of-a-kind beach on the Greek island of Zante, Zakynthos. There is no sand at all, since this is a rocky, U-shaped cove ideal for diving, snorkeling, and exploring the various caves in and around it. Getting down is a minor task, but once you place your towel on the rocks and gaze out over the emerald-green seas of this serene paradise, you'll understand why everyone is so excited. It's serviced by a cafeteria on one side of the cove and is popular with couples and bohemians.
There is also a lovely restaurant right above the beach that looks like it's hanging from the cliff, with sunbeds and food and drinks for you to enjoy this beautiful rocky beach in Zakynthos. This is a relatively busy beach that you will have to visit early in the morning to get the best experience of it. One of the best places to swim, in Zakynthos, Zante.
Amenities: A few sunbeds & umbrellas, parking, taverna
Access: By road & steps
3. Porto Roxa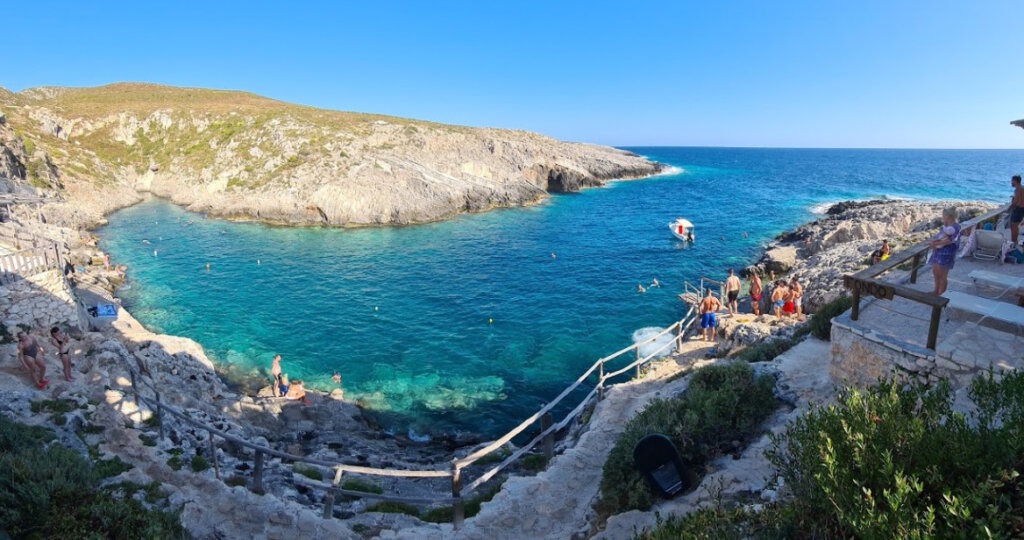 Welcome to Porto Roxa, the local spot of Porto Limionas, Zakynthos.
Numerous sea caves can be found in this undeveloped region of Zakynthos near Porto Limionas Beach. Those who are feeling very daring can jump into the water from a springboard that extends four meters above the water to reach the fjord. Porto Roxa is the ideal location for snorkeling and scuba diving aficionados as it is close to many sea caves.
Fantastic location to watch the sunset, in Zakynthos. A little beach that is uncrowded by visitors. The best attraction is a little boardwalk that is around 4-5 meters high from which you can leap into the ocean. It is advised to wear bathing shoes, but you can jump without them. Most of the time, there isn't much room for sunbathing, but there are 2 cantines that have sunbeds and a restaurant nearby to eat something after!
4. Port Vromi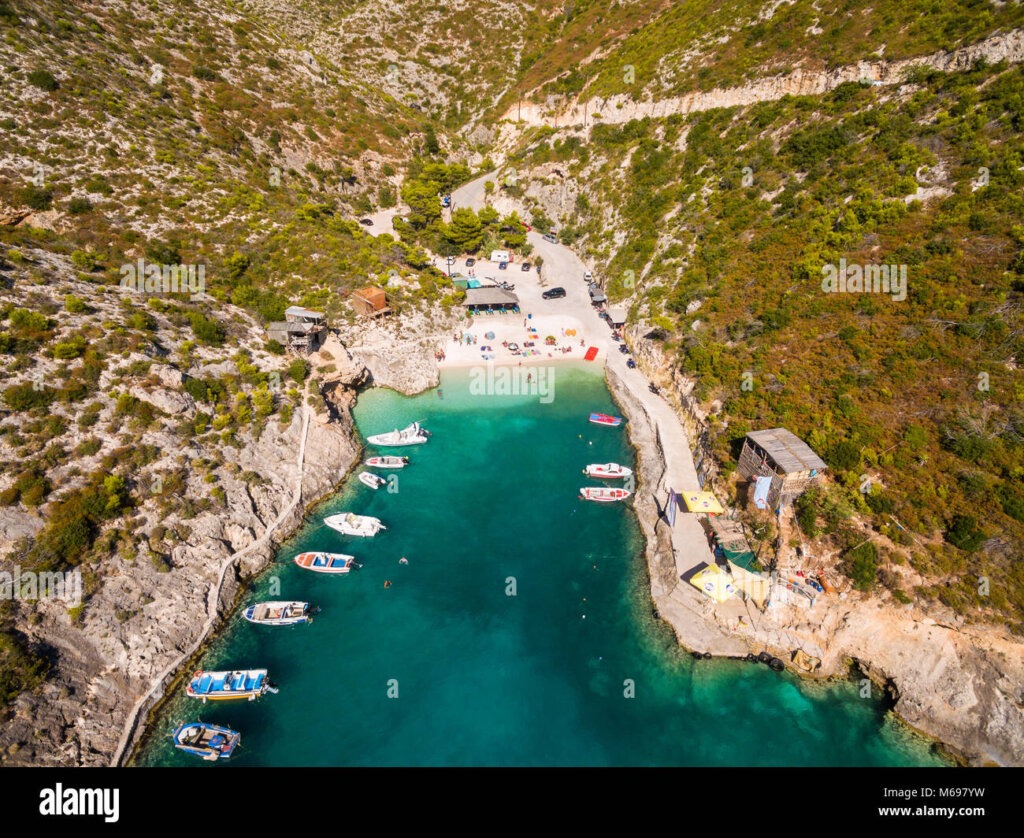 Porto Vromi in Zakynthos, is a beach, twice as beautiful since it has two of these fantastic little gems. They are little, winding coves that are tucked away inside a bay that resembles a fjord. Since they are not immediately next to one another, you may have to decide before your visit which one you will discover!
You can choose to sunbathe in the small opening in front of the beach or choose to rent a boat to Shipwreck beach or rent canoes to explore the surrounding caves! What an amazing adveture!
Either way, you will definitely enjoy the white sand, blue, crystal clear, and cold waters this amazing beach in Zakynthos has to offer! They are among Zante's best beaches.
Amenities: Snack bar, boat rentals & trips
Access: By road
5. Kalamaki Beach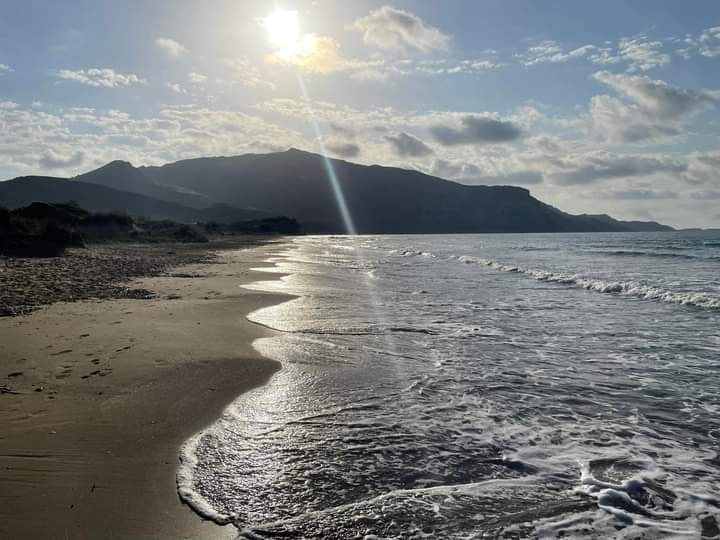 Kalamaki Beach is located in the southern part of Zakynthos and is known for its huge sandy beach with warm, crystal clear shallow waters, which is a part of Laganas Bay. Kalamaki Beach is also protected by Greek legislation, as one of the places where the endangered Loggerhead Turtle lays its eggs. For this reason, Kalamaki Beach is a part of the National Maritime Park of Zakynthos. Kalamaki is ideal for family or romantic holidays, as it is pretty close to Zante Town but at the same time, it's a quiet resort with all the amenities.
Pro Tip: Wondering about the best Hotel near Kalamaki Beach? It's Us of course!
6. Agios Nikolaos Beach
Agios Nikolaos beach is a famous staple of beach holidays in Zante, located on the southern peninsula of Vassilikos Zakynthos (not to be mistaken with the same port to the north).
The beautiful green-blue waters and yellow-white sand draw everyone from families (thanks to the shallow mild waters) to adrenaline junkies (scuba diving, paragliding, and water sports), making a day spent here a day well spent. The fact that it's surrounded by thick, lush flora is the cherry on top (as Zakynthos is known for it). This is a well-known beach for the locals and totally worth a visit when you arrive at Zakynthos!
Amenities: Sunbeds & umbrellas, beach bars, tavernas, water sports
Access: By road
7. Korakonisi (Crow Island)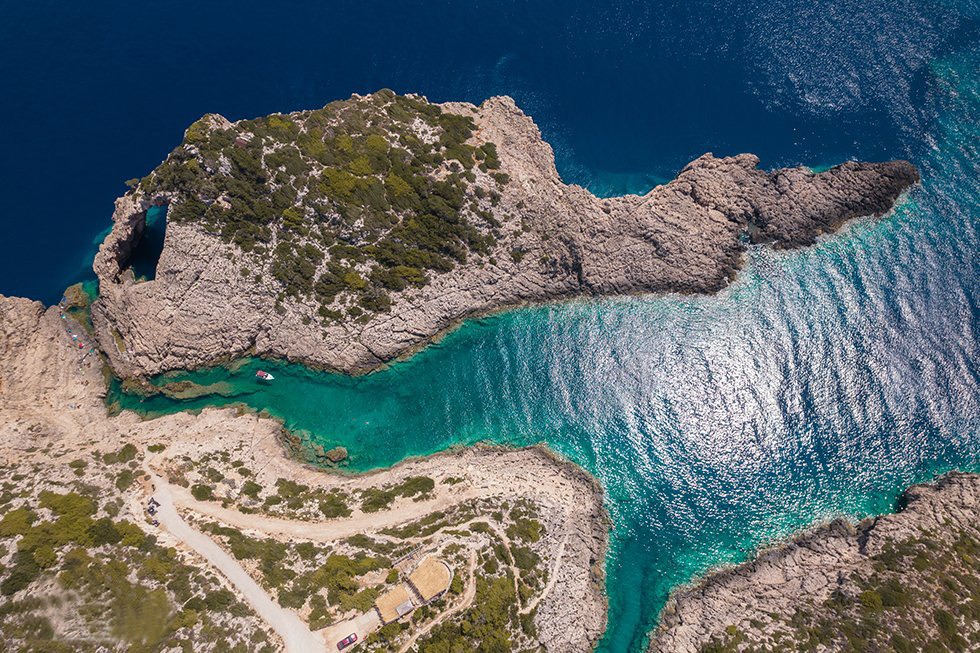 Korakonisi is a one-of-a-kind natural landmark! The development of the rocks creates a massive arch that spans more than 20 meters and conceals a small hidden bay. The water is calm and transparent, with a magnificent seafloor. It is surrounded by the sea and rocks, with only one little piece of rock connecting it to the mainland.
Climbing up onto the island's rock allows you to see the rugged landscape. Those of you who are more daring can jump into the sea from the arch. If the thought of plunging in from such a height makes you nervous, you can gain access from the rocks. When diving into the sea here, you should absolutely use a mask because it is quite overwhelming.
8. Xigia Beach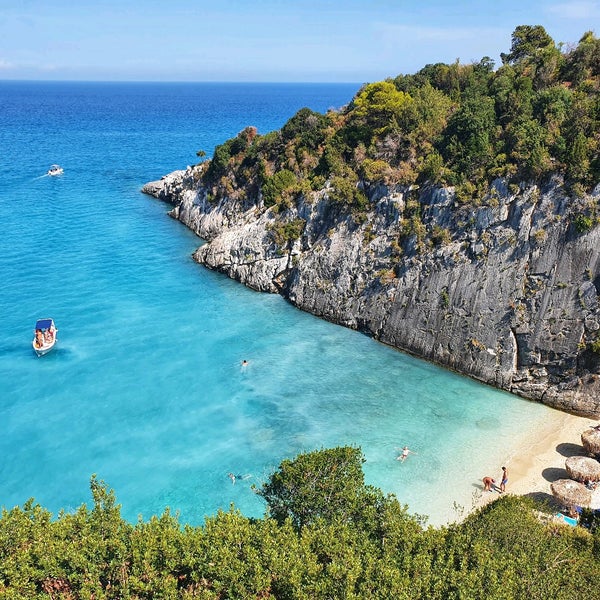 Because of elements and minerals from adjacent caverns, Xigia Beach in Zante is a natural spa beach with therapeutic capabilities that treat arthritis (among other maladies).
It is actually two beaches connected by a thick layer of lush green flora and featuring emerald-green waves (both known as Xigia Sulfur beach of Zakynthos). The first is a little rocky bay with a canteen and green falling to the sea, while the second has white pebbly sand and a tavern above it. Choose your poison.
9. Gerakas Beach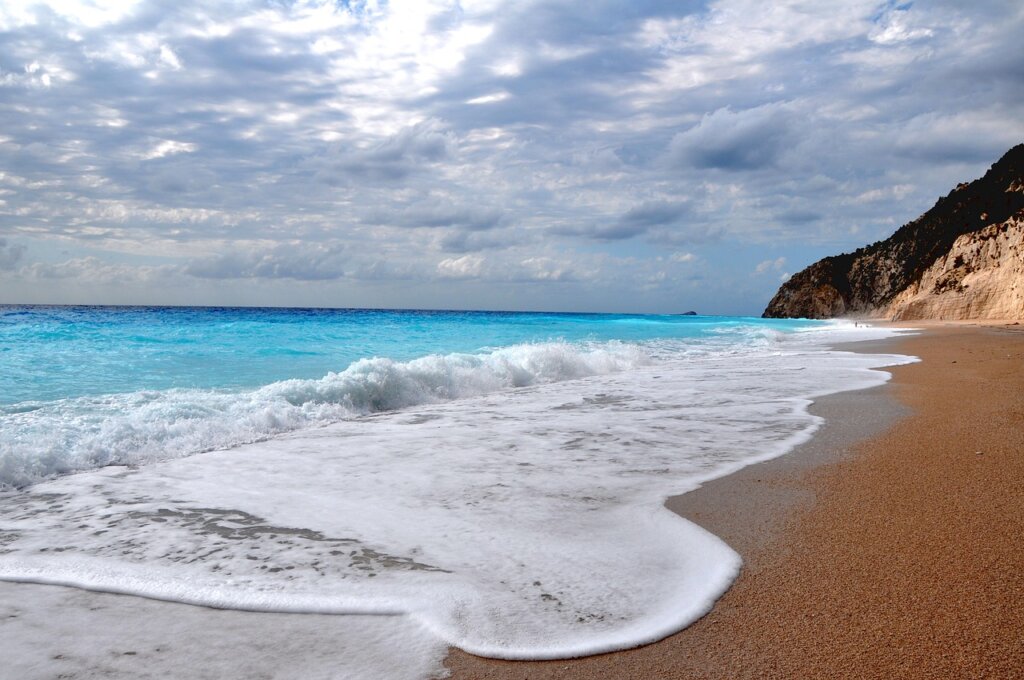 Gerakas Beach in Zakynthos is as long as it is beautiful, stretching across a huge span of golden-white sand. It is located within a big cove with shallow, blue seas, making it an excellent choice for families with children. It's also ideal for the endangered loggerhead turtles, which nest here in the summer (as they do on many of Zante's beaches). To preserve the turtles, the beach is closed after sundown, so bear that in mind and walk softly. Take note that the left part of the beach is formed of clay, which is great for an impromptu exfoliation session.
This is where the location of ARCHELON, The Sea Turtle Protection Society of Greece, is. It is probably the most protected beach on Zakynthos island, which makes it even better to discover! Just remember to respect the wildlife and its surroundings. The volunteers will be more than happy to provide you with any kind of information about our kind friends!
Amenities: It is a protected beach, so only a few sunbeds available.
Access: By road
10. Keri Caves
The little seaside village of Limni Keri and its surrounds should be on your Zante bucket list for a variety of reasons, the most important of which being that it has a family-friendly beach. The beach itself is lovely, albeit small, but what surrounds it is the true treat. Marathonisi island, viewable from the beach, is a loggerhead turtle breeding site. Explore the wild Keri Caves (the color of the blue-green water is amazing, and your tour boat may sail through tunnels in the rocks) and Myzithres, a spectacular rocky outcrop covering a hidden beach.
Amenities: A few sunbeds & umbrellas, parking, tavernas
Access: By road
Worth Mentioning
Porto Zorro Beach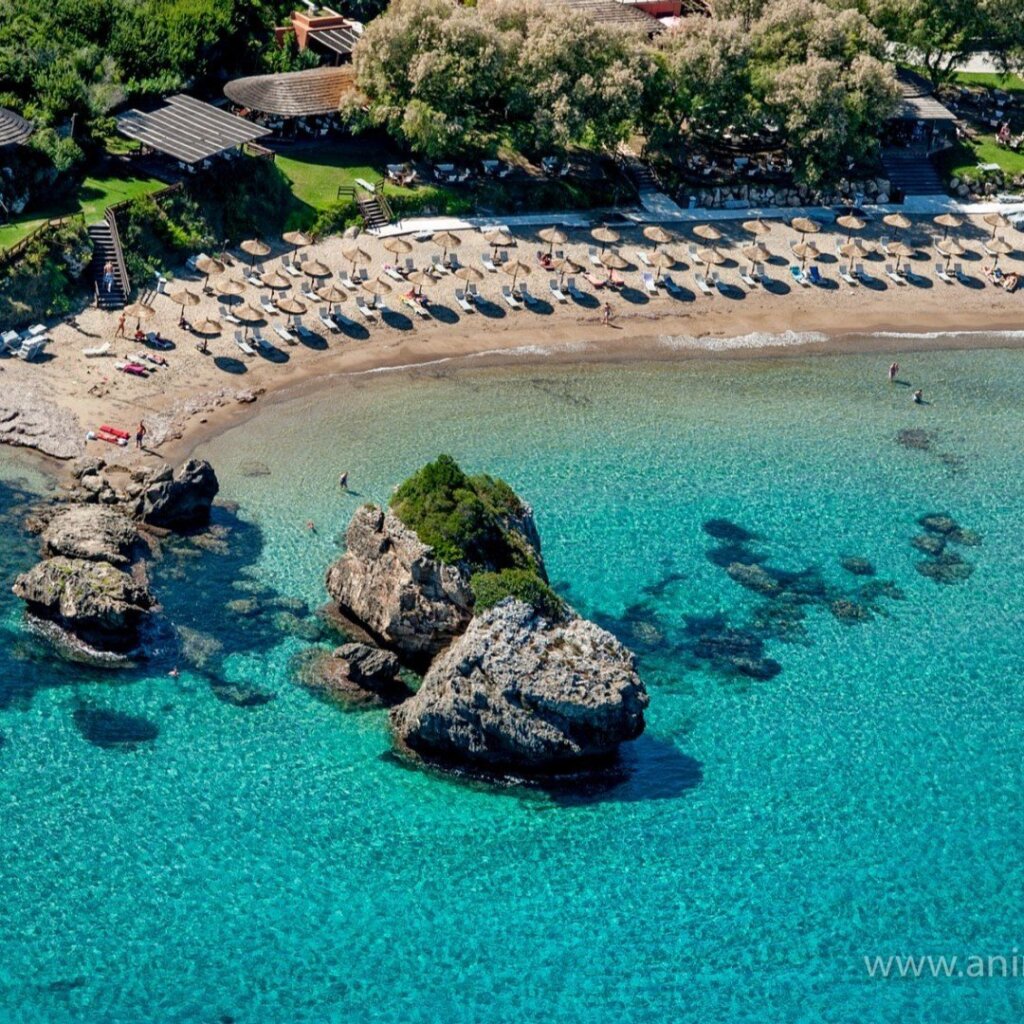 Because of its brilliant blue waves, the Italians dubbed this swimming location Porto Azzuro. Because of the tavernas and the younger demographic that like the beach bars, it's now known as Porto Zoro and is a terrific choice for families, couples, and friends. Its unusual look is due to the dense flora and massive stones protruding from the water. Overall, it's one of Zante's nicest beaches.
Marathias Beach
Marathias is the place to go if you want to be alone and wild. This beach delivers on its promises. This secluded jewel is beach ideal, with tranquil, warm crystal-clear waves, pebbles, and rocky outcrops. The cliffs shield it from the winds, and the steep fall through a wooded route keeps it from being overcrowded. So it's excellent if you want to spend a quiet day at the beach, snorkeling and reading your book. Enjoy.
---
Read More About Where To Eat On Zakynthos Island And Tips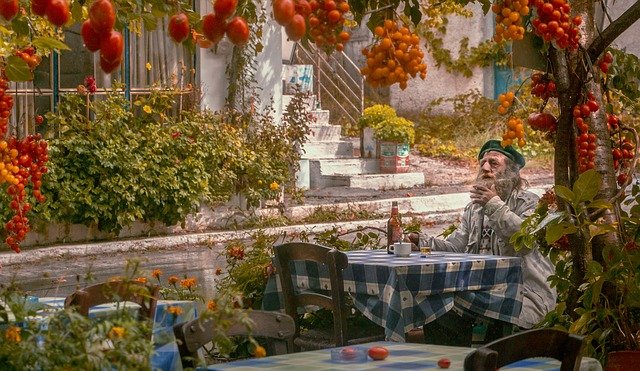 Zakynthos or Zante, was under the Venetian Rule for Decades and Decades. That is why Zakyntho's architecture and cuisine is so much influenced by the Italian Cuisine. Even our name has changed a lot of times, from Zakynthos to Zante. Zakynthian Cusine includes, Rabbit Stew, Red Wine Rooster, Pastas, Pizzas and amazing fresh seafood!
As a local, I am obligated to know only the best Restaurants to eat, for EVERY occasion!
Click the link below to find out where to eat on Zakynthos Island!