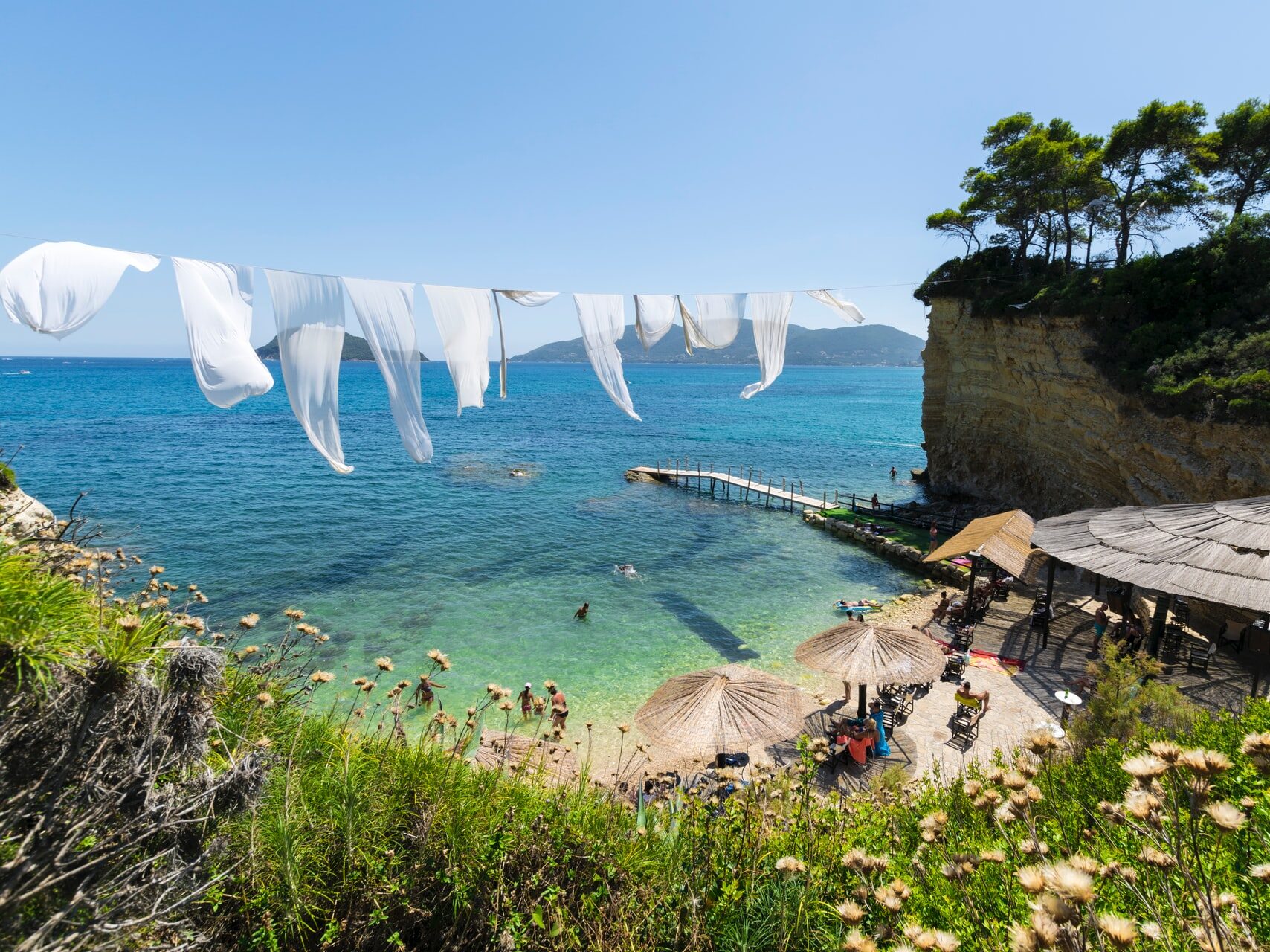 What is there to say about Zakynthos? Maybe that it's nestled in the heart of the Ionian Sea? Or maybe that the island of Zakynthos blesses travelers with jaw-dropping coastlines, beautiful white sand beaches, and small, picturesque villages?
One of the most beautiful places you could stumble upon, certainly in Greece, in combination with the world-famous Shipwreck beach and the amazing Greek hospitality and spirit. Zakynthos (or Zante as Italians say), is the perfect location for families, couples, parties, quality dining, and life-lasting experiences. Separating itself into smaller pieces to accommodate everyone's needs!
Pro Tip: This is a local's guide. Everything you read here comes from a humble local Zakynthian, and more specifically, from Denny's Inn Family!
Best Guide for Zakynthos/Zante would come from a Local, would it not?! Let's begin:
The Best Things To Do In Zakynthos
1. Take A Boat Trip Around The Island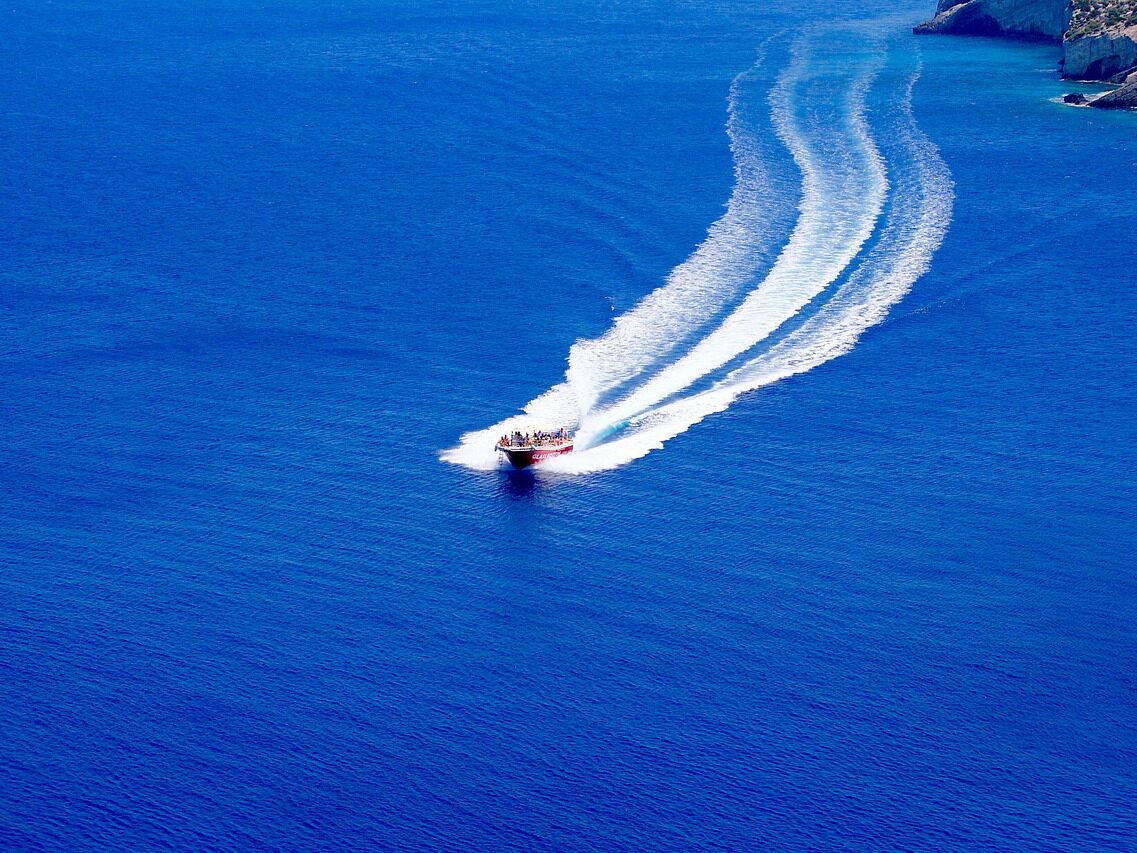 The best way to find all the secret gems and all the crystal blue waters of Zakynthos, is to go on a boat trip! See the wonderful coastal highlights of Zante, and spend the day diving in amazing crystal clear waters whilst experiencing the backdrops at spectacular locations. Popular destinations to visit by boat are the famous shipwreck at Navagio beach along with luminous Blue Caves, Marathonisi ( Turtle Island ) in combination with Keri Caves, and Mizithres Beach.
There are typically two options for taking a boat trip around the island, renting a private boat or taking a guided tour with a captain. Hiring a captain is the most expensive and, honestly, the best choice. A captain is experienced enough to show you all the secret gems and able to take you into secret coves, while if you rent a private boat, chances are, you would have some difficulties steering between huge rocks!
Renting a private boat is another great option and it's perfect if you just want to enjoy the breeze, and roam freely along the coastline while jumping into the water! Hiring a boat is pretty easy; you don't need a license for a small vessel (a little experience is preferred), and it is reasonably cheap if you have a group. Both options are really great.
Pro Tip: The reception at the hotel has plenty of info for renting a boat/captain, come find us!
2. Visit Navagio Beach: The Famous Shipwreck Cove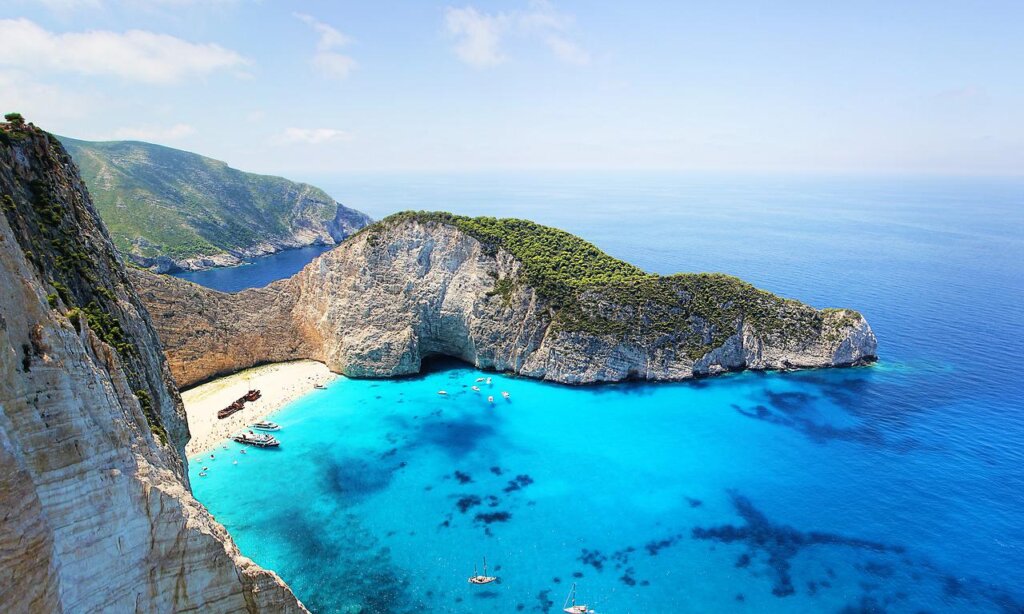 This list, wouldn't be complete without the world-known beach and the island's most photographed site, and one of which is on many people's bucket lists. The famous Navagio Beach, or Shipwreck Beach or Shipwreck Cove, is a must-see when visiting Zakynthos. One of the best places to visit in Europe, with surreal views of stunning white sandy beaches and impossibly blue waters, it is a true spectacle.
This beautiful beach, at Zakynthos island, is home to the rustic remains of the MV Panagiotis, a ship that became stuck in the cove in the 1980s and has a fascinating history behind it. Located in the northeast of Zakynthos, there are two main ways to see the beach – by water or from the white limestone clifftops.
There are two ways to visit Shipwreck Beach/Navagio Beach. Either by boat or car. If you choose to o by car, you won't be able to swim, because the beach is accessible only by boat, but you will be able to see the fantastic views and take an amazing picture of Zakynthos most unique location. If you choose the boat trip, make sure to combine it with the fantastic Blue Caves and Poseidon's Face!
Price: Shipwreck boat tour: €25 with Shipwreck Zakynthos
Clifftop Access: Free
Pro Tip: Don't pay for a trip just to the shipwreck, lots of boat tours include a visit here along with other spectacular destinations for a similar price
3. Take A Trip To The Blue Caves
When visiting Zakynthos, a trip to these magnificent sets of limestone sea caves and natural arches is a must-do activity. Their name is due to the particular reflections of the water in the caves, and you can visit many of them with a small-medium boat, whereas the others are to be visited only by expert swimmers and divers.
Between Agios Nikolaos and Skinari Cape it is possible to reach by car a small mill and from there coming down a hundred steps, to reach the piece of coast where the caves are. When arriving at the caves, you will be stunned by their natural beauty, with the caves sparkling in the sunlight reflecting off the aqua blue waters.
Price: €10 around
Top Tip: Head here either in the early morning or late afternoon to skip the midday crowds, as the Blue Caves are a popular destination for tourists on the island.
4. Explore Zakynthos Town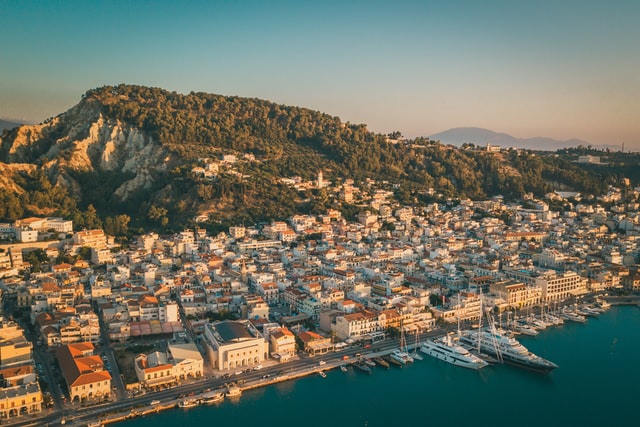 Zakynthos town or Zante town is not the most picturesque town in the Greek Islands, but you cannot visit an island without visiting its Capital! I promise you, you will love walking next to the seafront promenade. From Solomos Square (Greece's National Poet) to St. Dionisis Church, through the buzzing local shopping district and authentic Greek and Italian restaurants.
An afternoon exploring Zante Town is a great experience. Make sure to visit the Solomos Square, Democracy Square, and St. Dionisis Church!
Top Tip: Try looking for restaurants in hidden alleys instead of the seafront ones. As they are cheaper and more authentic!
5. Kalamaki Beach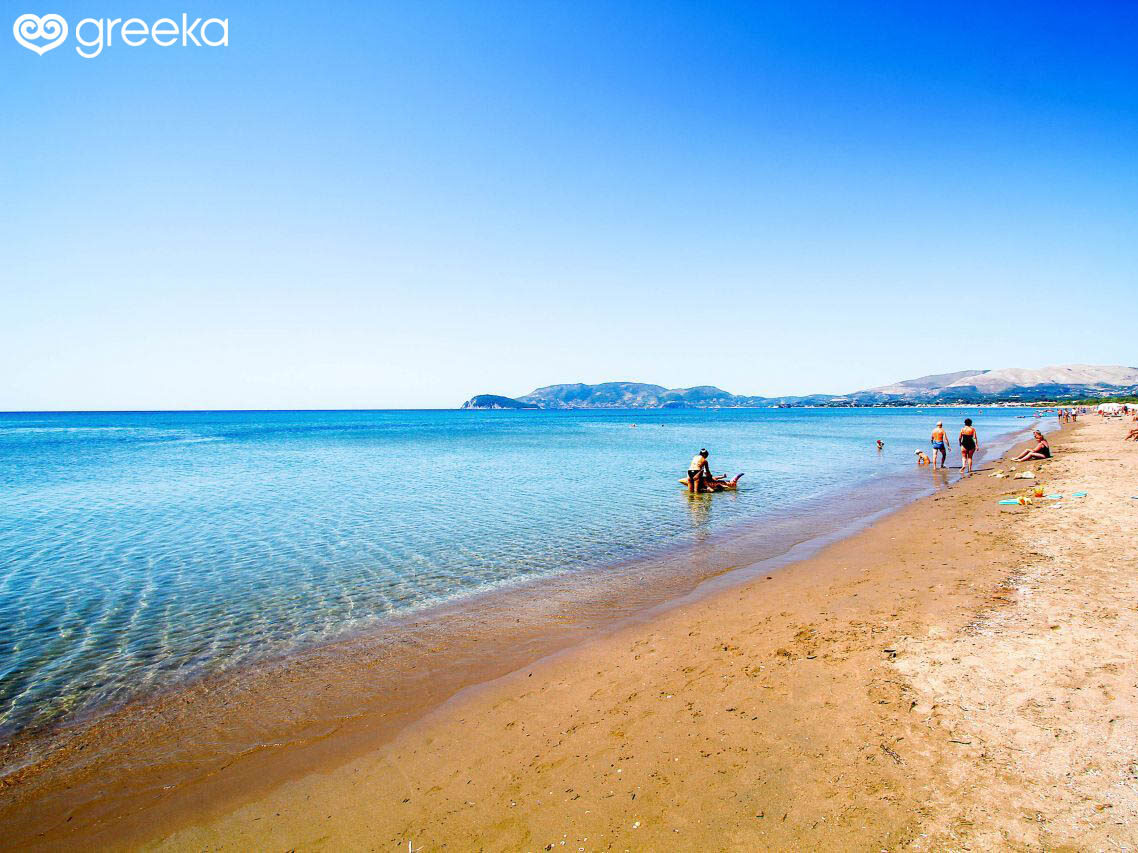 Kalamaki Beach is located in the southern part of Zakynthos and is known for its huge sandy beach huge sandy beach with warm, crystal clear shallow waters, which is a part of Laganas Bay. Kalamaki Beach is also protected by Greek legislation, as one of the places where the endangered Loggerhead Turtle lays its eggs. For this reason Kalamaki Beach is a part of the National Maritime Park of Zakynthos. Kalamaki is ideal for family or romantic holidays, as it is pretty close to Zante Town but at the same time it's a quiet resort with all the amenities.
Pro Tip: Wondering for the best Hotel near Kalamaki Beach? It's Us of course!
6.Relax On Porto Limnionas Beach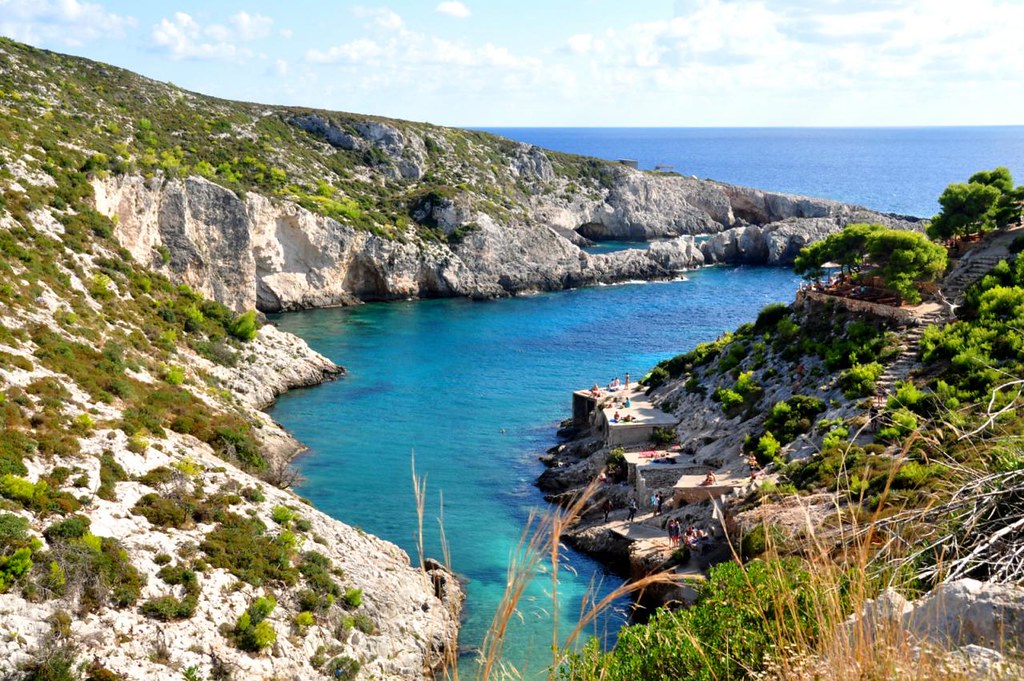 Aaahh, the east side of the Zakynthos Island. Zante's east side is full of rocky beaches, small fjords, and old fishing docks.
This might sound appealing until you see the amazing, breathtaking crystal clear blue cold waters of the Ionian Sea! The Ionian Sea is a very deep sea, and that's why this side of the island has the 5th place on our list. Porto Liomionas. What I say? Located near a fjord on the island's west coast, the pristine beach is nestled between high white cliffs hollowed with rocky caves. Rent a car and visit this magnificent rocky beach of Zakynthos island and enjoy the deep cold side of the Ionian, with a sunbed and a coffee.
There is also a taverna there called, Limnionas Taverna. Sit and enjoy some lunch, with an amazing view, after a refreshing swim with the fishes.
Sunbed: €5 a day
Access: Free
Top Tip: Rent snorkeling gear before heading to the beach, you'll find it hard to find waters clearer than the ones surrounding Porto Limnionas.
7. Marathonisi (Turtle Island)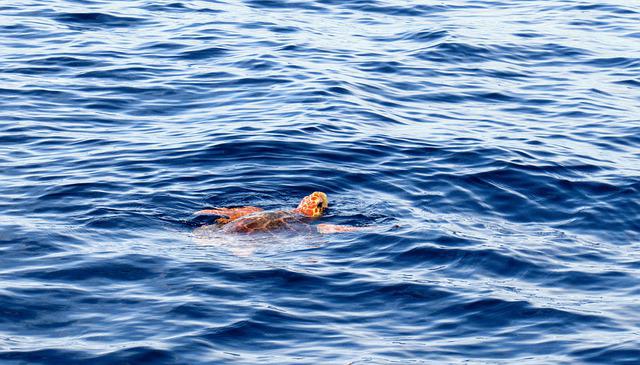 The famous Marathonisi, also goes by the nickname "Turtle Island". Located in a little islet on the south of Zakynthos Island is the mesmerizing Marathonisi. This gorgeous island is home to the nesting grounds for the Loggerhead Turtle, Caretta-Caretta. Its waters surrounding the island, as well as along the Kalamaki Beach, are a national marine park., meaning, it's under the protection of the government.
While Zakynthos is home to these amazing creatures, our human presence has threatened them. Examples such as beach chairs smashing eggs, kids digging up the nests, or even hatchlings being disoriented from the bright neon lights. We must be thankful for ARCHELON, The Sea Turtle Protection Society of Greece, which efforts and volunteers have helped thousands of turtles!
If you insist on going on a trip to explore them, I strongly recommend going with an eco-friendly boat, such as a wooden boat that does not use diesel. If you do happen to see a Loggerhead Sea Turtle randomly while swimming anywhere, consider yourself lucky!
8. Visit The Mountain Villages Of Kambi And Anafonitria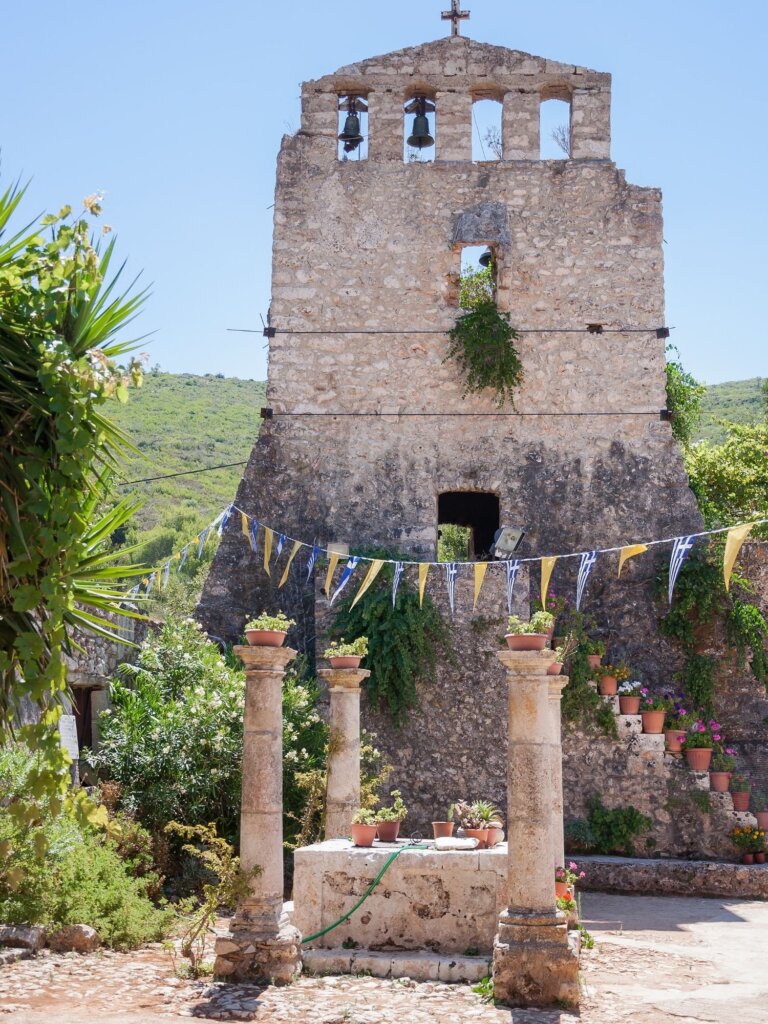 In this monastery, Agios Dionysios, the protector saint of Zakynthos, became a monk and lived the last years of his life in the 16th century. In 1580 Saint Dionysios, or Denny, as abbot of the Anafonitria, hid in the monastery and saved from his persecutors the murder of his brother, as he forgave him with love.
It's a must-do, on Zakynthos island. If it weren't for the natural beauty of this island, this destination would have been number 1. Many visitors don't know about this place, and that's why you will see the untouched villages and vineyards of Zante. Spend the day venturing through the picturesque villages of Kambi and Anafonitria, wandering through local farmland where you can observe locals harvesting grapes.
Top Tip: Make Sure to visit Kambi for authentic Zakynthian Cuisine, such as rabbit stew and rooster! The restaurants there are on the cliff with stunning views that make the experience even better!!
9. Watch The Sun Go Down At Keri Lighthouse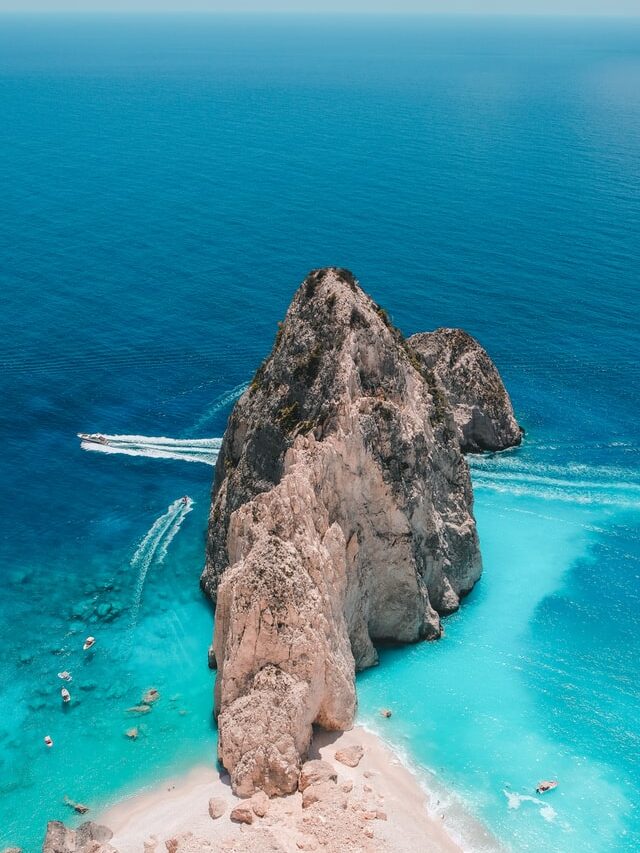 If you are still reading this blog, this means that you are determined to find the best things to do in Zakynthos Island and for the best Greek sunset. Well, look no further. Keri Lighthouse is your reward. This is the best place on Zakynthos Island to watch the sun go down, with immaculate views overlooking the azure waters.
In the summer months, the golden-red sun dissolves perfectly into the sea, creating a spectacle for visitors. Easily accessible but extremely popular, we'd recommend heading there a couple of hours early to make sure you get the perfect position.
Top Tip: Buy an ice-cooler and bring a beer or two, it is the perfect place to finish your day.
10. Visit Agios Dionysios Church
During 1953 there was a massive earthquake that destroyed Zakynthos Town, except almost 3 buildings, including Saint Dionisis Church. The patron saint of Zakynthos island or Zante (as italians say). Let yourself in, and embrace the amazing orthodox paintings, stories, and ceremonies. At the end of the church, you can find Sant Dionisis resting room. Inside a huge cold metal box, so people can pray to him. Special events and a few days of the week, Saint Dionisis is in his see-through box and his feet covered with heavy linens, in order to worship him.
Agios Dionysios is a picturesque church located on the main harbor in Zakynthos Town. A historic landmark on the island, it is a must-visit for history lovers. The church has added a museum.
Location: Agios Dionysios Church, Zakynthos Town
Price: Free
Top Tip: Head here when you need a break from the sun, it offers great shade and coverage.
11. Relax At Xigia Beach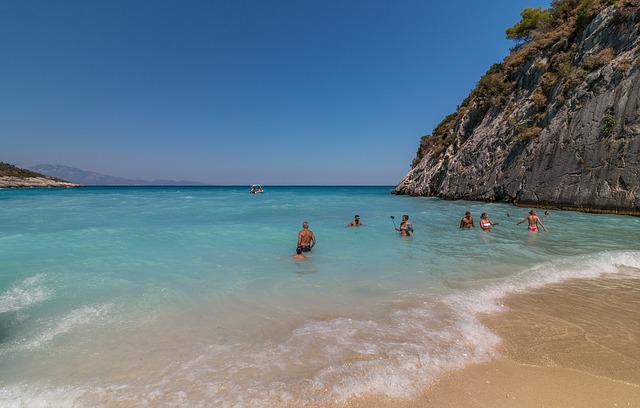 A hidden beauty on Zakynthos's northwest coastline lies the charming pebbly beach of Xigia. If you're looking for a natural fix to relieve some tension, soaking up the waters here may help. The water is said to be a natural treatment for aches and pain with rich qualities in the water.
Top Tip: Rent a car for the day to head to Xigia beach as it can be difficult to access by public transport.
12. Visit Korakonisi ( Crow Island )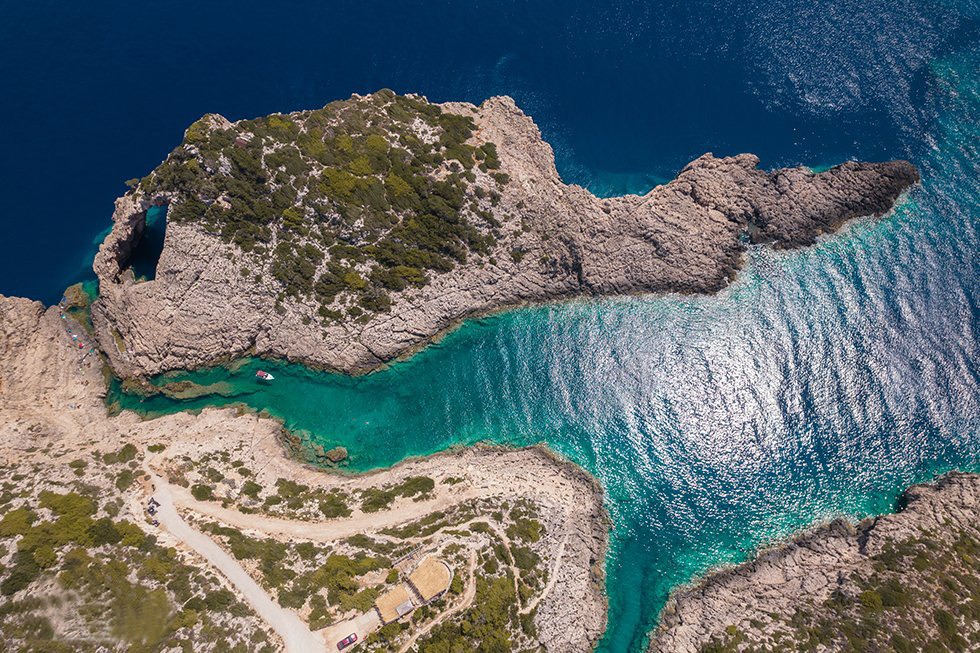 A very well hidden gem and a unique monument to nature, is Korakonisi on Zakynthos Island. The formation of the rocks create a huge arch that of which exceeds 20 meters, and the arch covers a small secluded bay. The water here is cool and crystal clear with a beautiful seabed. It is surrounded by both the sea and cliffs and is connected to the mainland by one small piece of rock. Climbing up onto the rock of the island you can admire the rocky wilderness. Those of you more adventurous can dive into the sea from the arch. If the idea of diving in from such a height scares you access is easier from the rocks. You should definitely use a mask here when diving into the sea, it is overwhelming, you see every sunbeam that penetrates the water and the seabed is very vibrant!
13. Rent A 4×4 And Drive Around Zakynthos Island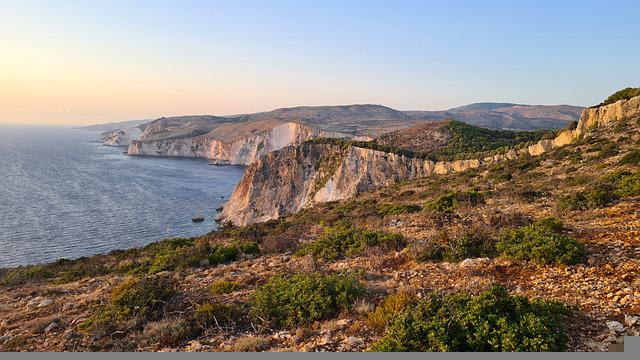 Zakynthos Island is full of forest roads, also Greeks don't have a great reputation about their roads or road rage!, so renting a 4×4 is a great way to conquer the rocky and dirt roads in order to find all the hidden treasures. Believe me, there are A LOT.
By renting a car, you will be able to visit amazing pit stops at your own pace, including the spectacular Vrachionas Mountains, and you will be able to drive towards the highest point on Zakynthos Zante Island.
---
Read More About Where To Eat On Zakynthos Island And Tips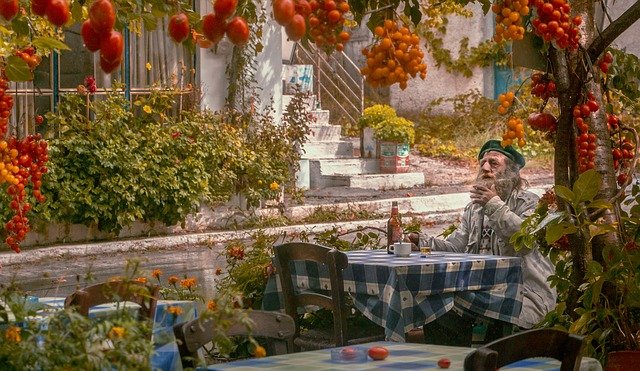 Zakynthos or Zante, was under the Venetian Rule for Decades and Decades. That is why Zakyntho's architecture and cuisine is so much influenced by the Italian Cuisine. Even our name has changed a lot of times, from Zakynthos to Zante. Zakynthian Cusine includes, Rabbit Stew, Red Wine Rooster, Pastas, Pizzas and amazing fresh seafood!
As a local, I am obligated to know only the best Restaurants to eat, for EVERY occasion!
Click the link below to find out where to eat on Zakynthos Island!